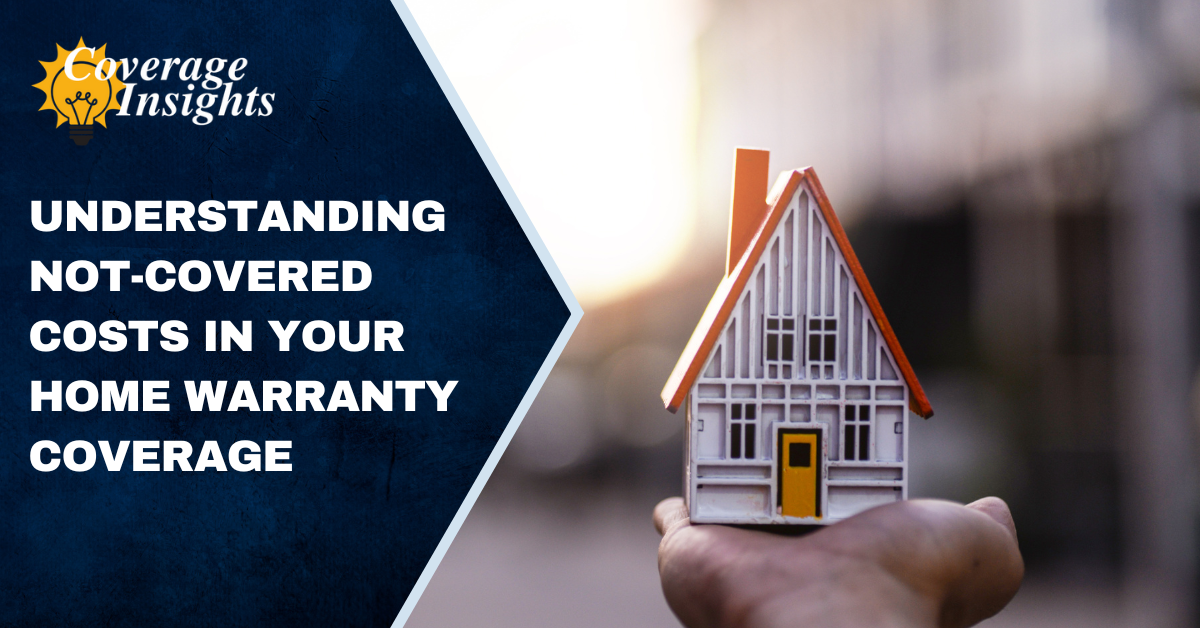 According to a 2021 survey, 77% of homebuyers needed to make a repair in their new home during the first year of homeownership! Old Republic's home warranty plan mitigates the high cost of covered home system and appliance breakdowns. Our plan is as comprehensive as they come. But home warranties don't cover everything.
All home warranties have not-covered items, specific services or components that are excluded from coverage, and plan limits that cap the dollar amount of covered services. At Old Republic Home Protection, we believe in transparency, so we clearly state the limitations of coverage in your state's plan brochure and the Declaration of Coverage we send to you when your plan goes into effect.
In that same spirit of transparency, this article explores items not covered in our plan. We'll also highlight Ultimate and Platinum Protection, which provide additional coverage for items not covered under our Standard Plan.
Where to Find Not Covered Items
You can view the complete terms of coverage in the Declaration of Coverage or view a sample contract on our website's View a Current Brochure page.
Each individual coverage section within the plan brochure contains a list of covered items and not-covered items.




See your state's plan brochure for complete coverage details.
Because we exclude some services or components from coverage, there may be covered items and not-covered items within the same service claim. Plan holders are responsible for any costs not covered by the plan, even if some costs are covered.
Imagine your garage door is not properly opening or closing. We dispatch a technician to fix the issue, and he finds that a wire in your garage door opener came loose. At the same time, he also finds that your remote transmitter is malfunctioning—an item listed as not covered in your plan. ORHP covers the cost to repair the garage door opener, while you are responsible for the cost of the remote transmitter.
We agree: malfunctions stink. But you can rest easy knowing that ORHP will install a new unit that's comparable in features, capacity, and efficiency when replacements are necessary.
Understanding the Limits of Liability
Each Old Republic home warranty plan has a Limits of Liability section—a set of conditions the service claim must meet for coverage to apply. Unlike the not-covered items discussed above, most of the Limits of Liability are not item-specific.
The Limits of Liability is broken into four sections:
General Limitations
Permits and Other Fees
Access
General Exclusions
Many of the Limitations of Liability are common-sense terms and conditions of coverage. For example, Limitations of Liability 1.P. states: "[This plan does not cover] Services requested prior to the effective date of coverage or after the expiration date of coverage."
Others are less obvious, like the Access section. Access explains our coverage limitations to opening and closing walls, floors, ceilings, and other impediments that might block the contractor from easily accessing the covered systems and appliances to make the repair. Learn more about Access here.
Be sure to read the Limits of Liability in your Declaration of Coverage for complete terms and conditions.
Home Warranty Plan Limits
Placing caps on the dollar amount available for repairing or replacing covered items is commonplace in the home warranty industry. We call these Plan Limits.
For your convenience, we clearly identify coverage plan limits for Standard and Optional Coverages in our plan brochure and your Declaration of Coverage. Below is an example of Standard Coverage limits.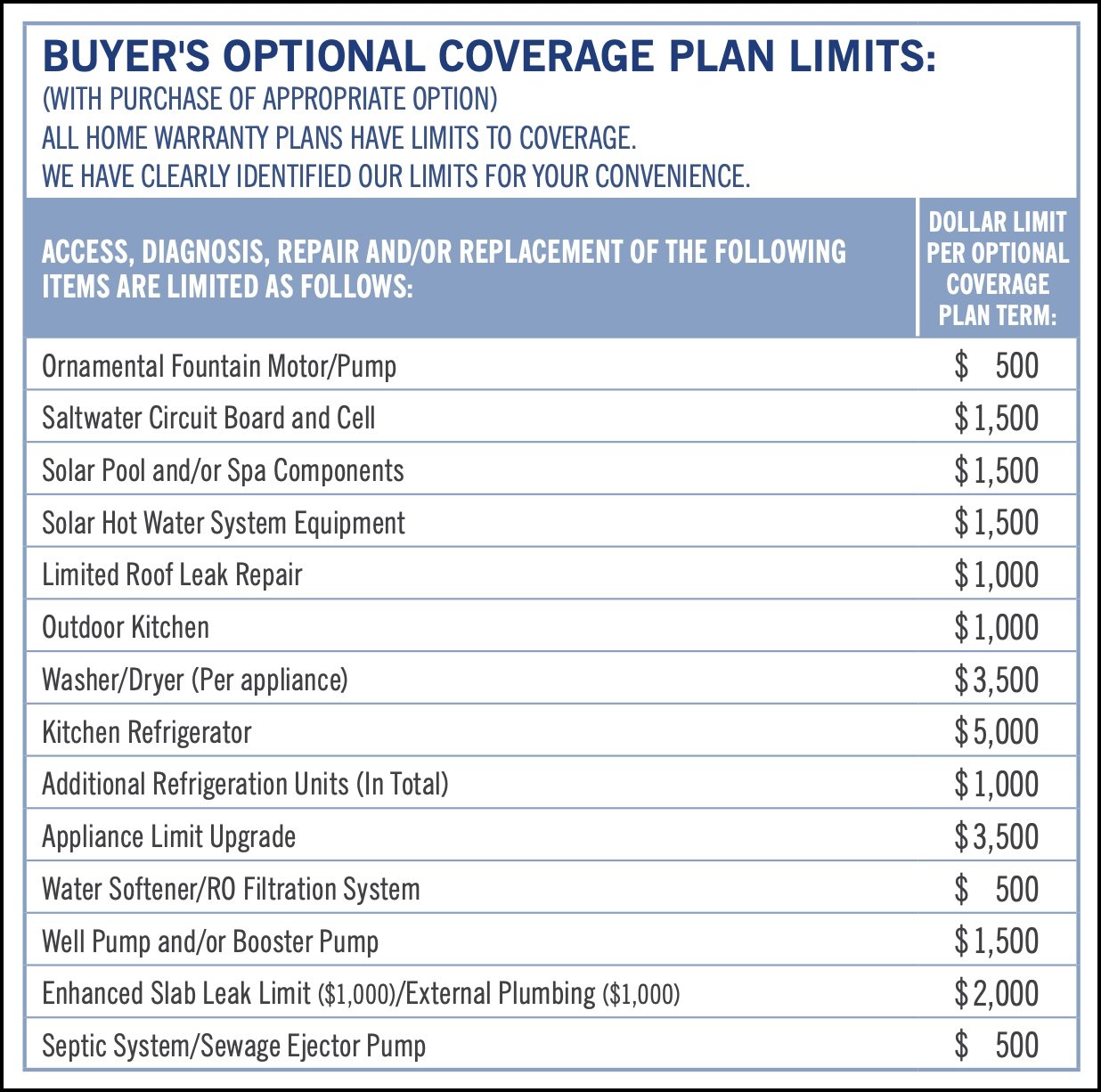 See your state's plan brochure for complete coverage details.
As you can see, the appliance limit for Standard Coverage in the AZ 6.3 plan is $3,500 per appliance. Each unique appliance has a $3,500 maximum limit for repairs and replacements during the plan term.
Once covered repairs and replacements reach the plan limit threshold, any additional expenses related to the covered item are the plan holder's responsibility.
Added Coverage: Ultimate and Platinum Protection
Ultimate and Platinum Protection expand upon Standard Coverage to provide even more value and comprehensive coverage.
Highlights of Ultimate Protection include:
Up to $250 per plan to correct code violations when required to render a covered repair or replacement.
Up to $250 per occurrence for required permits.
Up to $100 per occurrence for haul away of a covered appliance, system, HVAC component, or water heater when replacing that covered appliance, system, or component.
When required to render a covered repair or replacement, we will correct an improper installation/repair/modification of a system, or appliance, or correct any mismatch condition in terms of capacity/efficiency in order to ensure system operational compatibility and functionality.
With Platinum you get everything in Ultimate, plus:
Up to $1,000 per plan to make necessary duct, plenum, electrical, plumbing, and carpentry modifications, including necessary relocation of covered equipment and/or the correction of code violations to affect a covered repair/replacement
Up to $500 per plan toward zone controls and respective equipment
For items under Manufacturer's Warranty: We provide coverage for labor and other specified costs for covered repairs/replacement, but not for equipment or component costs covered by an existing manufacturer/distributor/other warranty
and more!
Upgrading to Ultimate or Platinum Protection ensures you get the best coverage in the industry, with increased plan limits and an even more inclusive home warranty product. Of course, no home warranty covers everything. But at Old Republic, we're committed to providing a comprehensive and transparent product on which you can rely!
Topics